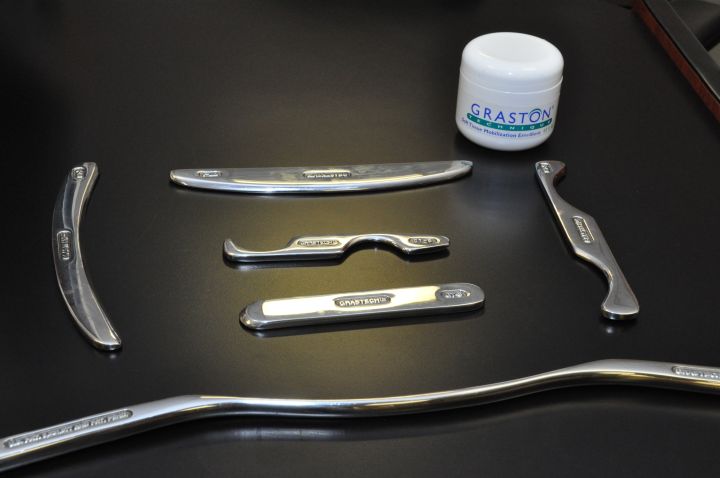 ​The Graston Technique is an advanced instrument assisted soft tissue treatment for muscle and scar tissue that restrict movement and cause pain. From a simple pulled muscle to an open wound, the body forms scar tissue to repair damaged tissues. Scar tissues do not function or have the same flexibility of normal muscle tissue. Fibrotic scar tissues accumulate over time and can cause stiffness, pain, and decrease physical performance.
Originally developed by athletes, the Graston Technique is used by more than 18,000 clinicians worldwide. It is used by some 1,960 outpatient facilities, over 50 industrial sites, and by more than 280 professional and amateur sports organizations.
Graston Technique for Post-Surgery Scar Tissue
To understand why the Graston technique is the leading form of scar tissue treatment, it helps to understand the negative effects of scar tissue. When soft tissue in the body is damaged, it tends to heal in a random, fibrotic way, which can cause stiffness in the tissue. The resulting tissue tends to be thicker than healthy tissue and usually has an irregular organization. As a result, it often restricts normal movement and can cause pain.
During surgery, tissues get cut and moved around. Scar tissue is the normal healing process. In certain parts of the body, this scar tissue can negatively impact range of motion and may also cause stiffness, pain, swelling and inflammation. Fortunately, you don't have to resign yourself to putting up with these issues. The Graston technique, an innovative scar tissue treatment, is among the most effective ways to address surgery scar tissue and problems that are associated with it. Safe, effective and non-invasive, it's a viable option for anyone who suffers from problems due to surgery scar tissue.
Graston Technique is used to treat conditions including:
Back Pain
Neck Pain
Tendinosis / Tendinitis
Muscle Strains
Joint Sprains
IT Band Pain
Plantar Fascitis
Shin Splints
Carpal Tunnel
Rotator Cuff Syndrome
Tennis Elbow
Golfer's Elbow
Contact us at (914)421-1502 to see how Graston Technique can help relieve your pain.
What to expect with Graston Technique Therapy
Graston Technique utilizes tools specifically designed for different regions of the body. First, the skin is lubricated with an emollient to allow sufficient friction between the skin and the steel instruments. Heat, electric muscle stimulation and ultrasound therapy may be used to relax the soft tissues prior to the Graston therapy. The doctor then uses a Graston instrument to "scan" or slide along a particular muscle area in search of fibrous or scarred tissue. Once an area of abnormal tissue and scar formation is located, the doctor uses the various instruments to apply deep tissue massage to break down the scar tissue. This procedure stimulates a local inflammatory response which initiates the healing process for soft tissue repair. The length of treatment depends on the density of the tissue and the tissue response. Patients typically undergo two treatments a week for four weeks. The doctor will prescribe specific movements and "exercises" during and after treatment to promote normal alignment and repair of the tissues being treated. It is common to feel some minor discomfort during and after Graston Technique treatment. Bruising and skin discoloration is a normal response and is part of the healing process.
Accelerate Muscle Recovery
Graston Technique is also used to accelerate muscle recovery following exercise and high intensity workouts. Muscle tissues undergo microscopic tears in response to high velocity and high intensity training. During the recovery period after a workout, the body builds new blood vessels to bring nutrients and eliminate waste products. Graston Technique facilitates the healing process by realigning torn tissue fibers and maximizing blood circulation for soft tissue repair. Faster muscle recovery allows for more frequent high intensity workouts and most importantly, preventing injury.
Graston Technique in the News
Graston Technique Used For Breast Cancer Treatment
Medievil-like Tools Used To Treat Chronic Pain
Contact us at (914) 421-1502 to schedule a consultation for the Graston Technique.